I was browsing Facebook market place when I saw a listing for nursery mattress covers made from PVC. Out of curiosity I asked the seller if they would be able to make it in a bigger size to fit a double bed mattress. After getting a reasonable price on that I asked if they could also make a duvet cover and pillow cases. Initially the seller said that it is PVC material and not suited for use in a duvet, however after sharing some pictures of ones I had before the seller decided to give it a try.
We decided to go with the lightest PVC available so this is made from 250 gram per square meter PVC. I have always liked the darker sort of olive green rainwear so I am very happy with how this came out. I met the lady, Bongi, that makes it when I picked it up and she showed me samples of some of the other PVC she can get. I do see myself getting another set like these in 300 gram per square meter PVC, it is smoother than what I have now.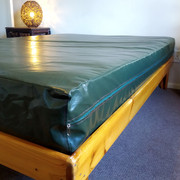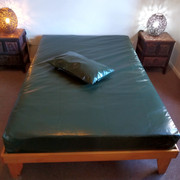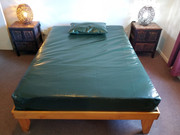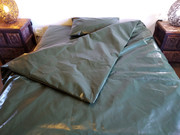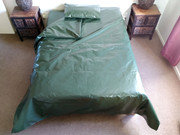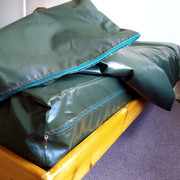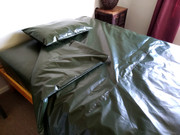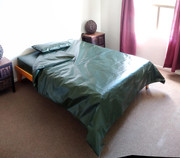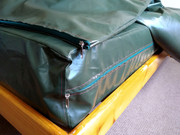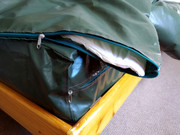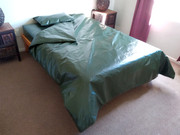 I polished it with a vinyl/leather/plastic product that is made for use on car interiors and it works very well. After spending the last week sleeping on this I enjoy the feeling it has and the way the PVC weighs down on the body. I would however like the smoother purple PVC as the ones I have now does have a slight canvas like feel to it. Still a very nice experience and all of it was made locally, Bongi has an amazing attention to details as can be seen in her sewing.
This is what the purple PVC looks like that I plan to get in future.