Hello Wet Friends,
slightly off our normal fair (rain wear) but I think you will enjoy me in my heavy rubber Victorian Maid Uniform. I just wish it would RAIN !
That is my sewing box and roller skates just under the rum and cranberry I just finished
Close up of the Victorian Maid Uniform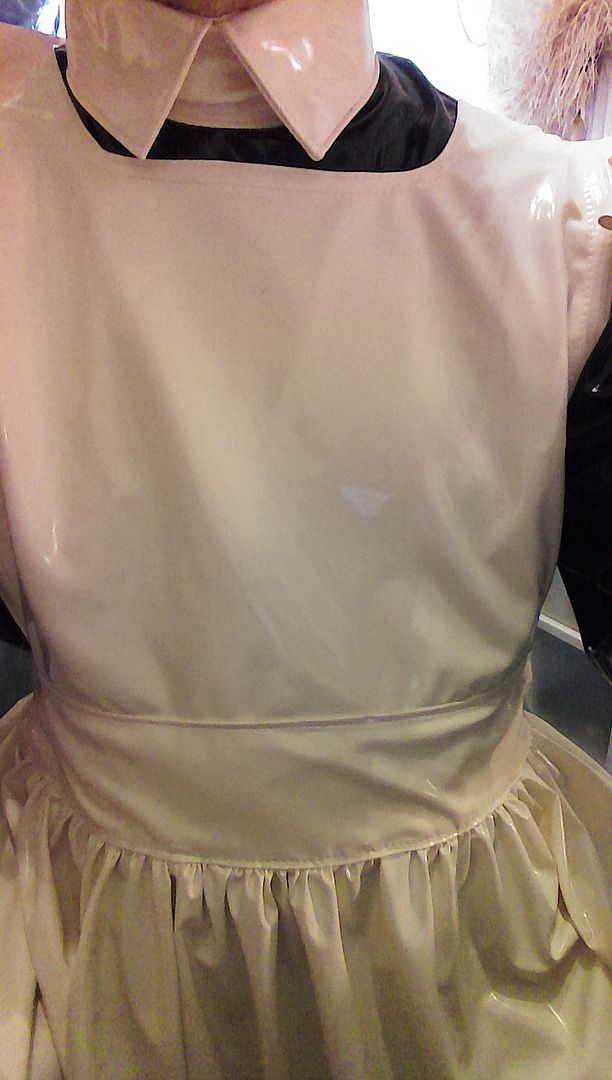 Marigold Glove on my lap
Profile view of the Rubber Maid Uniform wearing the Marigold Heavy Rubber Gloves. i am sorry I did not wear my rubber bra: I feel out of uniform!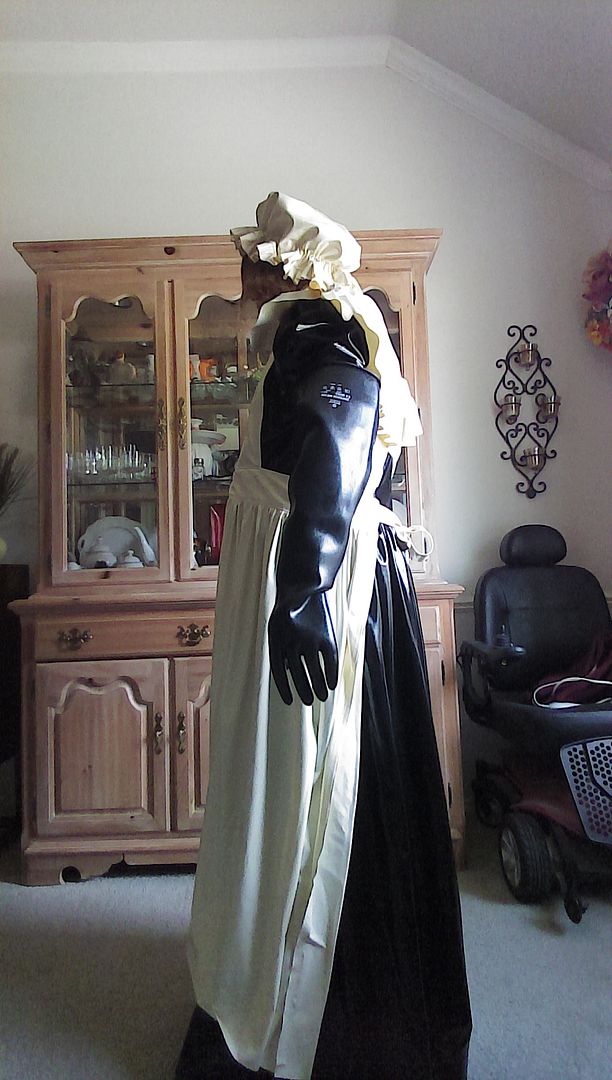 My bow is not done right!
I love these gloves !
I would wear this uniform everyday if I could but it is difficult to keep clean. After running around in the house the uniform becomes very damp. If I wear a rubber bra and rubber bloomers it is REALLY wet! All the wetness and sliding around is not an issue: it is cleaning the uniform. There are three steps
1) gently take the uniform off. The uniform was created here
https://ectomorph.com/sales/buy/8/300/
and was rather costly. You never pull on wet rubber: you can tear it.
2) after the uniform is off then you make a shallow tub with warm water and something like "Dawn Dishwashing Soap." You want something to get rid of the oil that came from your skin that is now on the rubber. Latex does not do well with oils and will eventually fall apart. Gently wash the uniform but do not submerge it. The collar and the wrist cuffs on this uniform are very the expensive, folded sort. I have several cheap uniforms that have only single thickness collars so I can tell plenty of workmanship was placed in to this uniform. You do not want water to be trapped between the layers of rubber.
3) lastly the uniform is placed on a large towel and daubed dry. You cannot rub it dry: it will mess up the shiny side of the rubber. Then it is hung up over night to completely dry.
It is a lot of steps but you have to admit: I look very pretty covered head to two in rubber. Then wearing those Marigold Gloves is like icing on the cake!